Concrete Answers Series for Architects, Engineers and Developers |
Click here for more answers
Environmental Benefits
NOT GOING GREEN – "EVER" GREEN
The natural properties of tilt-up concrete construction lead to enhanced sustainability.
Information courtesy of
CON/STEEL
Tilt-Up Systems

For a printable version or for more information, please contact
CON/STEEL Tilt-Up Systems at
csinfo@consteel.com
, or check out CON/STEEL's biannual newsletter,
The Alliance Times
.
From energy-efficient light bulbs to hybrid cars to LEED certified buildings, it is clear that "green" will be a way of life in American society, as well as in the building industry into the foreseeable future.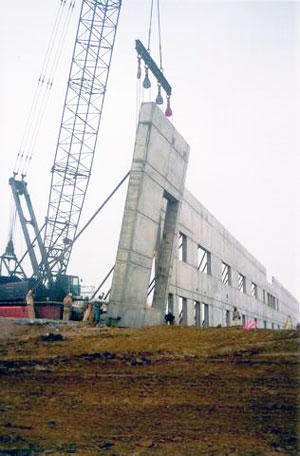 However, before sustainable design became a motivation, quality concrete tilt-up projects were constructed based on concepts of creating building envelopes that minimized the dynamic changes in temperature surrounding the building. So, before sustainability was an industry buzzword, tilt-up buildings were already recognized for advanced thermal efficiency.
Despite its ability to regulate temperature swings and minimize energy consumption, the truth is that there is no way to achieve LEED certification with only the credits that tilt-up concrete can provide. The largest share of LEED credits come from mechanical, electrical, plumbing and site considerations.
So, it doesn't matter what type of construction is used for the building shell, right?
Wrong.
Although tilt-up construction cannot single-handedly achieve LEED certification, it is a building shell method that earns easy credits – providing important points toward certification, or pushing your project to the next level of sustainability. Why not choose the method that delivers the most "green?"
Site-casting concrete elements offers manyadvantages for generalsustainability, as well asdocumented LEEDcredits. First, all the significant componentsfor a tilt-up structure can be provided through local sources. This factor, combined with tilt-up panels formed on site, reduces the amount of fuel used to haul product to the job site.
Sustainable projects also need building envelope performance to play an important role in reducing energy consumption and costs. Tilt-up buildings have a tighter structure and less air infiltration compared with many competing systems. Concrete's natural ability to absorb and store energy—the thermal mass effect can also be combined with optimum insulation options to deliver maximized thermal performance.
Tilt-Up in the Long Term
To be truly sustainable, a structure needs to be maintained in the long term. Tilt-up buildings have realized life spans of 100 years. These structures not only stand the test of time, but do so with a very low maintenance profile, keeping costs and product consumptions low. The environmental impacts of lowering maintenance costs are often overlooked, but contribute significantly to a building's overall sustainability.
The natural durability of tilt-up wall panels not only allows them to withstand standard wear and tear, but also delivers the option of reusing panels in the event of a building addition or renovation. Repurposing wall panels– or using them as site fill or pavement sub base material– reduces overall construction waste.
Working Together for a Better Tomorrow
Construction product manufacturers are also working to provide goods that enhance the tilt-up structure while contributing to overall sustainability. According to CON/STEEL Ally, Scott System, up to 10 LEED credits can be achieved when Scott System Brick Snaps® or Rim Snaps™ are chosen to achieve a masonry finish for concrete tilt-up walls.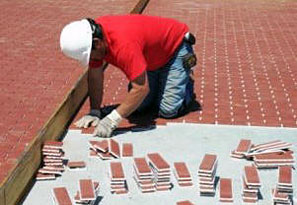 The Scott System thin-brick product uses 80% less raw material and natural gas to produce and deliver than conventional full-size brick. The manufacturing process and lighter weight means that a reduced amount of clay and shale are needed and less energy is used to produce and ship the product.
The United States Green Building Council has also recognized the value of sustainable design for building shells. Among its numerous categories of LEED certification, the building shell is now one of them. The shell certification stays with the building, so a building owner can provide a sustainable baseline, regardless of the desires and decisions made by future tenants.
The best of all worlds can be achieved when building owners, designers and contractors work together to develop sustainable projects. Owners receive all the known benefits of tilt-up—speed, cost containment, durability, safety and more—as well as the newly recognized benefit of sustainability.
As the "green" trend continues to permeate many aspects of life, we consider the impact of our work and the legacy we will leave. The buildings we create leave a lasting impression on both the environment and the people they affect.
Why not leverage tilt-up construction to provide the most sustainable facility possible?