Concrete Answers Series for Architects, Engineers and Developers |
Click here for more answers
Commercial ICFs
the cutting edge in commercial building wall systems
For nearly half a century, leave-in-place Insulating Concrete Forms have proven themselves as a premier, high-performance wall system, offering superior economic, environmental, and durability benefits.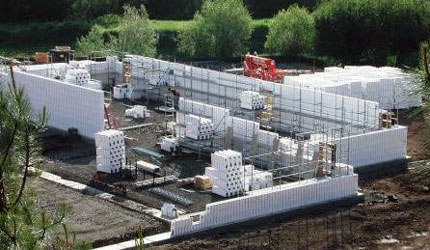 Today, as more and more commercial building owners, architects, contractors, lenders and investors discover the cutting-edge value of ICFs, a 30+% annual growth makes it the most rapidly expanding building system in the U.S.
ICFs use rigid foam insulation to form and encase concrete walls, like a concrete sandwich with insulating foam in place of the bread.
On the job site, interlocking ICF blocks or panels are assembled with remarkable ease and held in place at a desired thickness with engineered ties. Reinforcing is often added, then concrete is poured into the cavity. Along with systems for easy mounting of finishes and channeling of utilities, the insulation remains in place with the concrete to provide ICFs' advanced economic, thermal, safety, environmental and comfort benefits.
The Inside Story on ICFs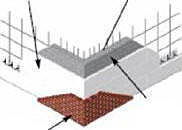 Lightweight polystyrene foam forms assemble easily and remain as insulation.

The integral form ties allow attachment of any interior wallboard while wiring paths are easily cut into the foam.

A reinforced poured concrete core provides superior strength and durability.

Apply any exterior finish, from brick to acrylic finishes and more.