Concrete Answers Series for Architects, Engineers and Developers |
Click here for more answers
Durability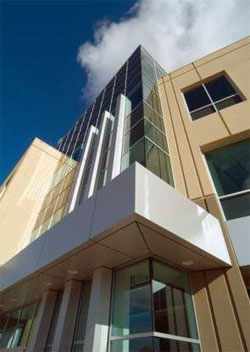 The strength of Tilt-Up concrete buildings was proven in the Northridge, California earthquake, where Tilt-Up walls stood, even when roof connectors failed. What's more, buildings constructed in the 1940s show little sign of age after 50 years. In fact, buildings dating back to as early as 1906 are still in service today. Tilt-Up structures withstand wind and hail storms and are impenetrable by the smallest rodent, insect, or even the most determined human.
Of minimal concern is localized damage to a concrete building from a truck or forklift. Metal or wood buildings will usually sustain substantial damage from similar incidents.
Fire resistance of concrete can extend the building's life, plus Tilt-Up panels may be used for the interior fire walls, and buildings may be spaced closer together under many building codes.
Sound Control
If you are in a noisy area, such as near an airport, you will enjoy the added benefit of the sound reduction properties of concrete. The mass absorbs the sound, rather than letting it through, as in metal and wood-frame buildings.